This Post Was Updated On
Even if every item in a room is bland and unexciting, or perhaps completely mismatched and discombobulated, sometimes all it takes is the perfect decorative rug to pull it all together and make it look intentional.  Today's roundup is quietly inventive, from interlocking jigsaw and runner pieces (courtesy of Contraforma and Now Carpets) to faux stones and leaves by 2form and YLDesign bringing a sense of the outdoors inside.  We've pulled some playful elements, too, like the John Deere rugs from Permafrost, called such for a reason, and the Hopscotch rug (not just for kids anymore!) from CB2.  Rounding out the bunch are two artful entries: a gorgeous gathering of felt strips from LAMA Concept and a circular cutout rug resembling the moon, from the mind of Martin Mostböck.  Actually, they're all so pretty, you might not want to step on them.
[postadv]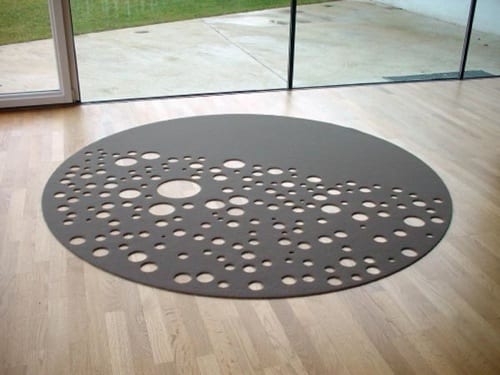 Hopscotch rug found at CB2.