This Post Was Updated On
50 Stunning Four Poster Canopy Beds
It is many peoples dream to own a 4 poster bed. There is something either romantic or fairy tail about this type of bed instead of your normal box bed. Due to this fact it is sometimes only a dream and not really reality.
But to own this bed you do not really need a fortume to buy one. These days just your normal frame boxed bed with under storage can be as expensive and a 4-poster. Add into the the cost of a good quality mattress and we are talking big bucks.
Most of the four poster beds here on are under or around £1000, which in the current climate is not over expensive, especially if the materials used are of good quality. You can always adjust the bed to your own personal taste.
Keep them as they are or jazz up the frames using spray paint or a textile draped over the headboard. The shape can do so much for even the smallest of rooms, adding height and geometry and interest to what's otherwise normally just air space.
Almost all canopy beds were originally intended to be utilitarian rather than ornate and used to provide privacy and warmth to noblemen and lords in Medieval Europe. The original beds had curtains and completely covered tops that could be totally closed.
16th Century Canopy Bed Designs
During the 16th century the previously plain and simple designs became much more detailed with carved posts and headboards. Today we have an endless amount of interpretations as you will see ranging from the Ultra Modern pod like bubble to classic Wrought Iron Canopy Beds, and what would interior design be without some chrome.
It is interesting to see how creative people have been with the fabric and sheers drapes to personalize their decor. For more designs see 100 Platform Bed Designs and Ideas
Open Four Poster Beds for More Light
Timeless design implies simplicity and this stunning work of wooden art. A good vibe comes from the use of colors and light that intensify the feeling of calmness. Beautifully displaying a stunning wooden full bed frame with a soft white canopy over the bed.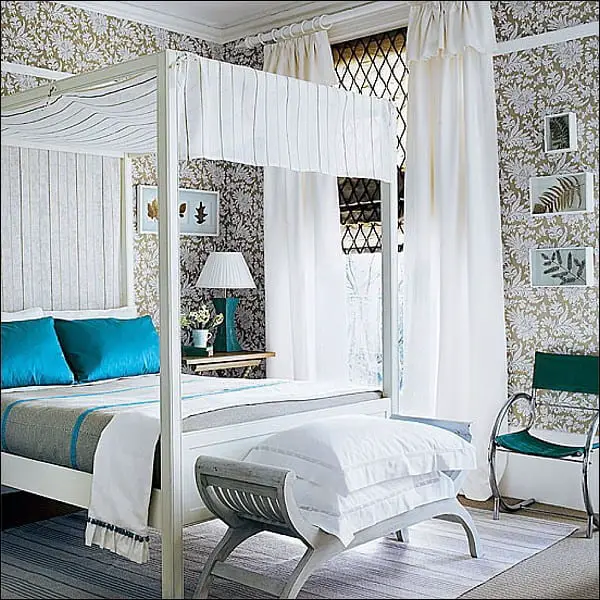 A white metal framed 4 poster bed with plenty of space underneath. Also looks like the canopy runs overhead from the back to the front.
Here we have a round metal framed bed that has the look of small trees around it on the corners. These may contain soft lights for the evening. It also has a dark headboard fitted and a soft canvas overhead removable cover. The mattress looks very comfortable.
This black four poster frame is for those with a special desire. It certainly will not be to everyone's taste. It is not mine. It must appeal to some though or the company that made them would not be here anymore.
A sliver square framed bed with a solid looking headboard and a fully open top. The mattress looks extra comfy though.
Here we have another of those beds that is for a unique taste. Thin red tree style legs with branches at the top. matching bedding on this one. The odd looking part is the bed frame. Black instead of the matching red. A very long overhead cover that extends down the back of the bed and over the front to tuck into the tree style tops.
This solid looking white frame is for those who want to feel like they are in the Caribbean with its palm tree look. Shame there is no mattress inside to give it more appeal.
Yet another bed with tree branches, but this time floating towards the center of the bed and joining in the middle. This one actually looks very nice in my opinion. A super thick mattress with cream and dark setting look very nice.
A four poster bed with a different kind of style. This would not be to everyone's taste and does not rock my boat. It certainly makes this room look very appealing though and not one that I would say no too with a room designed like this.
This is an unusual bed that will appeal to those who want the feeling of being in the forest. matching bed and quilt cover make this very special. It also looks like they have gone that little bit further by making the wallpaper part of the theme as well.
Something from the future. A bed in what looks like a full plastic frame that fits all around the bed. Fitted rear lights and underfloor lights. There could also be some sort of cinema screen that drops down at the front looking at that possible camera in the center of the bed.
A very tasty bed that looks really comfortable to sleep in. More antique style than your normal, with matching antique fittings.
Not something we see very often. A bed frame that will rock when you move. It would more than likely give me a headach but may appeal to those who like the feeling of being rocked to sleep.
Consider checking out Ikea for a canopy bed as there is probably one based locally to you.