Fashionable Furnishings from Top Clothing Designers
Though many American consumers are being a little reserved in today's economy, there are always those affluent consumers who are seemingly unaffected, and whose luxe lifestyle continues as if nothing has happened. For this kind of consumer many doors are opened, mostly because they are less concerned about the cost, and more concerned about achieving the style they are after.
They want to make sure their space stands out from what others are doing, which can be done many ways by a talented interior designer, but nothing says exclusivity like branded fashionable furnishings by their favorite fashion designers. Here are a few examples of luxe products most consumers are unaware of:
The Foglia Bed, by Armani Casa is a gorgeous example of modern and sleek, just like the fashion line itself. Shown here in molded wood, the bed is also available in leather and fabric.
Another Armani piece, this Tudor Screen is covered in gold leaf and makes a bold statement in a room. It is a piece I have seen used in at least one magazine article for a celebrity home showcase. Gold is in this season, and though fashion tides will always turn, I would consider this piece a classic.
Versace leather is in rare form as it molds itself around this contemporary sofa. Its metal construction is pure quality, nothing less than should be expected from a design label of this magnitude.
Versace offers many other furnishings and home accessories, ranging through the different design styles. Here are three bedrooms decked out in Versace style that illustrate my point.
A retreat that is a beautiful example of transitional style.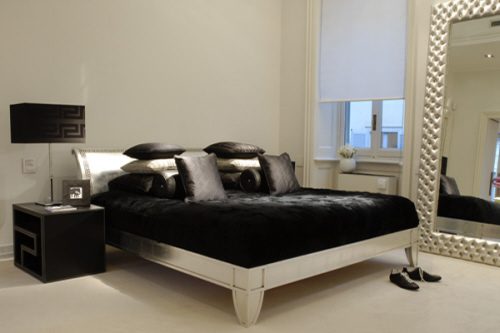 This space is far more contemporary in nature, but still carries a strong feeling of elegance.
Though the headboard could easily be used in a traditional home, this space is a well-put together example of eclectic styling.
Fendi also gets into the high-end furnishing arena and has an amazing line. The table shown is fashionably exotic, and proudly displays its maker's logo in a striking metallic finish that contrasts against the faux croc leather.
Other brands have come in on a smaller scale, sticking to serving pieces, flatware and accessories. Most notable are the lines from Versace, Vera Wang, and Kate Spade.
Above is the Baristo Road Candelabra by Kate Spade. Shown unfolded and adorned with candles on the left, it also folds up and bends, as shown on the right. One can only assume that it is meant to be packed up and taken on the road, just in case romance strikes and calls for a candlelight moment.
Other high-end brands outside of fashion are also cashing in on this luxury consumer market by introducing their product into other applications. Baccarat, a brand known for its fine crystal, makes lighting pieces such as chandeliers as well as smaller pieces like the pendant seen above.
The fashion and design industry are directly related. They always have been, and always will be. Trends ebb and flow, back and forth, colors go in and out, we have fashion and design revivals all the time. So it is no surprise to me that a fashion designer would be drawn to design a sleek leather sofa after working with leather in their clothing lines. The same can apply to an interior designer; most have an acute sense of fashion, and are drawn to brands that have a similar feeling to their design style. If you are looking for exclusive products and design ideas, watch the fashion trends to see what is coming, and work with your designer to choose pieces that are classic rather than trendy.
All photographs above were taken from the respective brands websites.