This Post Was Updated On
Around various holidays and special occasions when scores of friends and family fill our homes for communal meals and general merriment, we can rarely find enough seating to suit everyone.  Sure, we might pull a few side chairs together to give everyone a place to sit for a meal and a toast, but once everyone scatters, it's off to the front porch or into the backyard for some.  For the more nimble (and casual) among us, though, floor cushions offer a fun, whimsical alternative for spare seating; pop in a movie after the 4th of July fireworks, for example, and watch the youngest among the crew sprawl out on the carpet or snuggle up with the family dog — at his level, no less — propped up by the feather-stuffed afterthoughts you've casually tossed out for their comfort.  Easily stackable and storable when company isn't around, these cushy little accents are a simple problem-solver that, in some cases, actually brings people together.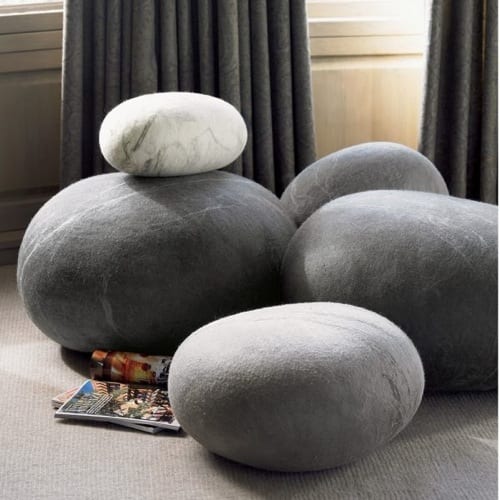 Ronel Jordaan felted wool cushions found at VivaTerra.