This Post Was Updated On
50 Wall Aquarium Designs
There is nothing more relaxing than simply sitting and looking into a beautiful Wall Aquarium. It has a way of taking you away from where you are to a nice tropical place.
These impressive built-in wall aquariums are however not for the beginner who just wants to raise a few goldfish. They are well planned and delicately balanced environments for their inhabitants.
This type of aquarium is also known as a "portrait aquarium" or simply a "wall aquarium" and they are now very popular amongst those who enjoy their fish.
These tanks are mounted directly into the wall which serves to support the weight of the tank. Wall-mounted tanks vary in size. It will all depend on what you intend to put in your tank, and how much money and time you want to put into your tank.
A large wall aquarium will look stunning when well lit and in the right place, especially at night when the lights are low and the fish are swimming around. Hours of pleasure and relaxation springs to mind.
Proper acidity levels and careful combining of elements that can co-exist with each other is the first step to getting the technical side right, making it look awesome is the next and equally important step!
If you are planning to do a saltwater tank it will certainly offer much more exciting fish and visual options. As you can see there is any number of frames you can have included in your design scheme or you can simply go with a clean face for an understated look.
Many of these styles were incorporated into the original designs but don't let that stop you from taking your project to the next level as many of these homeowners have done.
We hope to inspire your in-wall Aquarium plans with these beautiful images and you should look at 70 Outstanding Fish Tank Pictures & Ideas if you do not see the perfect one here.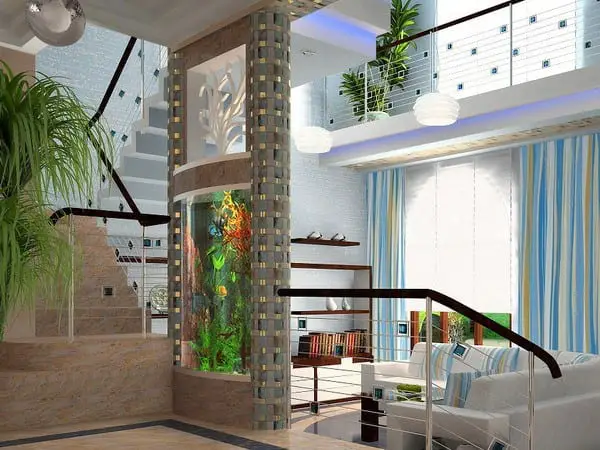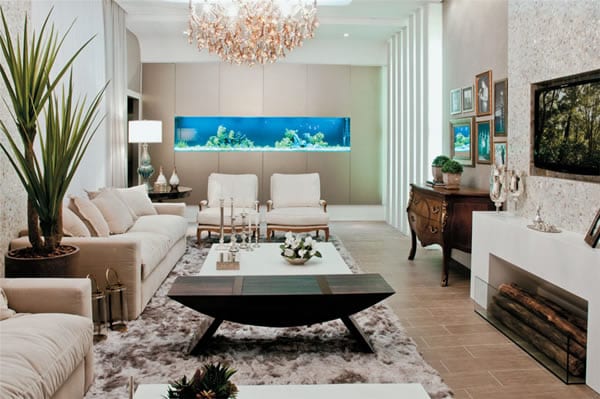 We hope you enjoyed this great looking list of wall aquariums. As you can see some of these are over the top and are way more than most of us will have but they sure are fun to look at.